Video Completion Rate
Percent of impressions where video played all the way through
Average VCR
The average video completion rate increased to 89% in Q1 2019, up from 87% in Q4 2018 and from 81% in Q1 2018. This continues the trend of strong and steady growth we've seen in VCR  over the last few years. This is good news for advertisers who make viewer completion rates a priority over click-through rates and a sign that this is the metric that Marketers are favoring.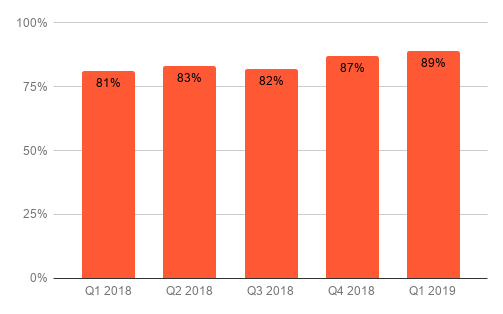 VCR by Media Type
Video completion rates for both premium publishers and aggregators continue to increase. Premium publishers saw their highest VCR yet, 93%, in Q1 2019, a rise of 2% vs Q4 2018 (91%) and 8% since Q1 2018 (86%). The VCR among aggregators grew to 75% from 69% a year ago and 73% in Q4. The reliably high VCR rate among premium publishers continues to be a draw for advertisers and the fact that the rate is climbing for both media types again indicates the importance that marketers are putting on this metric.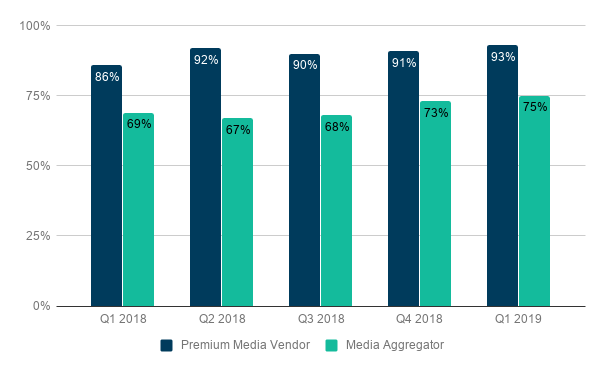 VCR by Ad Length
Completion rates for 15- and 30-second ads have seen steady growth over the last 5 quarters with the exception of a Q3 '18, when 30-second ads took a slight dip. Longer ads have the highest completion rate and that number hit 91% in Q1 2019. While this may seem counter intuitive, the popularity of 30-second ads on CTV, a TV-like environment where viewers do not have the option to skip, is responsible for driving that number up. VCR for 15-second ads also increased, from 83% in Q4 to 86% in Q1. 6-second spots are the outlier, having decreased from 86% in Q4 to 75% in Q1.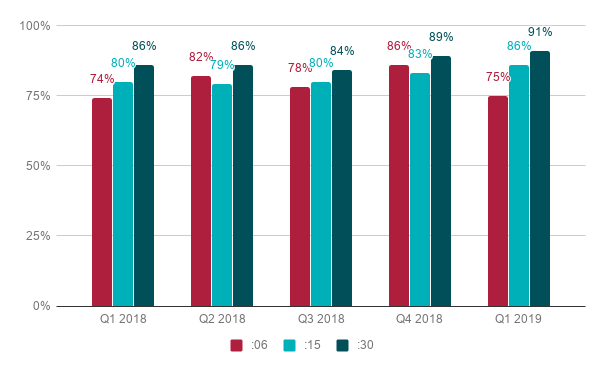 VCR by Device
After rising with minimal fluctuation over the past two years, Video Completion Rates on CTV hit its highest number ever, 97% in Q1 2019. The rate for tablets rose to 89% and mobile and desktop both settled at 81%. CTV consistently outperforms the other devices in this metric.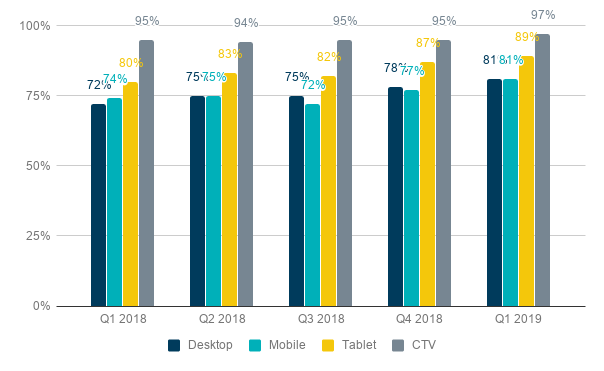 CTV = Connected TV, e.g., Roku, Apple TV, Playstation, Amazon Firestick and Smart TVs