Percent of Impressions
A look at how all video impressions served by Extreme Reach break down by Ad Length, Media Type and Device
Percent of Impressions by Media Type
In Q1 2019, premium publishers continued to dominate media aggregators in the percentage of overall impressions served by media type, ending the quarter with 82% of impressions vs 18% for aggregators. With the exception of Q2 and Q3 last year, when aggregators experienced an increase of impressions, we've seen a steady rise of premium publishers and in Q1 of this year it amounted to an increase of 11% vs Q4 and 15% vs Q1 2018.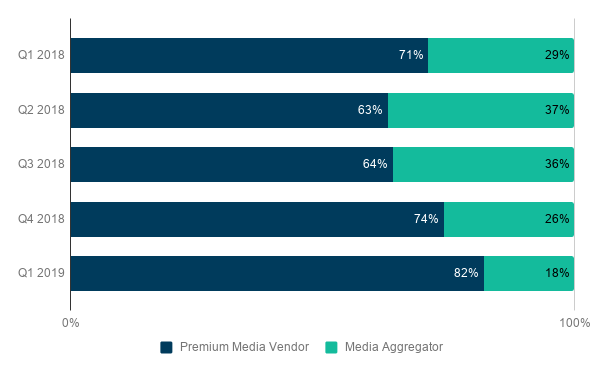 Percent of Impressions by Ad Length
30-second ads in Q1 continued to increase substantially over the 15-second ad length, closing the quarter with 69% of video ads served. 6-second ads held steady, accounting for just 1% of video ads both in Q4 2018 and in Q1. As 30-second ads gain share, it is in direct correlation to the decrease in 15-second spots , which accounted for 28% of video ads in Q1, down from 36% in Q4 of 2018 and 48% in Q1 last year. The growth of CTV continues to drive the increase in longer ads due to the TV-like experience of viewing and the inability for viewers to skip ads on CTV. Still just 3 percent of all ads, the quantity of 60-second ads increased nearly 5-fold from Q1 2018 to Q1 2019. 2-minute ads registered for the first time in our metrics, albeit at a very small .1% of ads.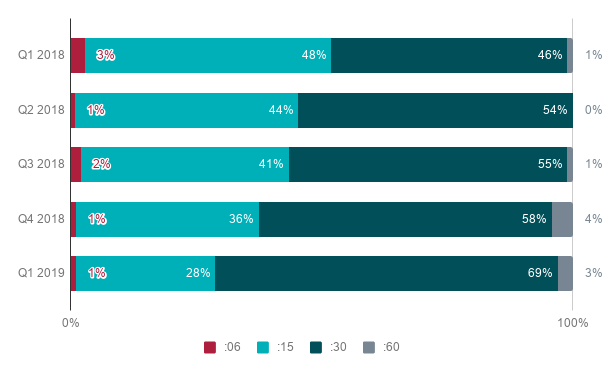 Note: small data sample sources for other ad lengths have been excluded, hence the rows in this chart do not total 100.
Percent of Impressions by Device
CTV continued to gain share in Q1, increasing to 49%, from 44% in Q4 2018. That amounts to a year over year increase of 58%, vs Q1 of last year, and an 11% rise vs Q4 2018. The decline of impressions served to desktop and mobile continued for a sixth quarter. Tablets gained 1 percentage point over Q4 and, more significantly, the 7% of impressions by device that were unclassified in Q4 2018, decreased to 3% in Q1.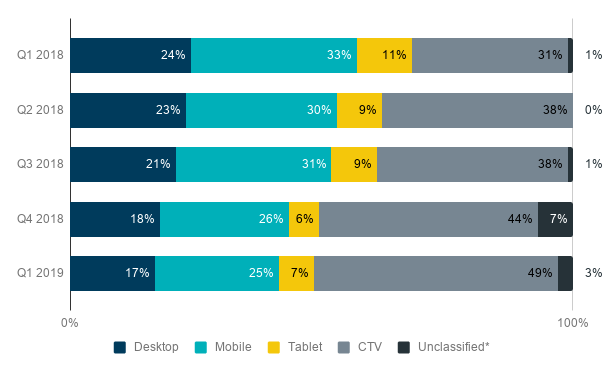 *Unclassified captures impressions from user agents who are known to be valid, as per industry sources, but whose platform or device we are unable to identify.