General Invalid Traffic (GIVT) Filtered Rate
Percent of impressions filtered from gross counts
Average GIVT by Reason
The overall rate for General Invalid Traffic has been on a steady decline since Q2 of 2018 and reached a new low of 1.5% in Q1 '19. High Frequency/Outlier Activity holds steady as the leading reason for filtration. Invalid Browser holds the second spot with an increase in activity over the two previous quarters, but remains significantly below the level seen in Q2 of 2018. The uptick seen in Spider/Bot activity in Q4 2018 settled back to levels in keeping with previous quarters.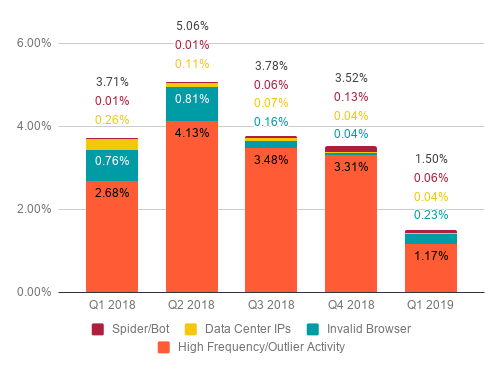 Premium Media Vendor GIVT
The overall rate of GIVT on premium publisher sites in Q1 2019 was down considerably over the previous four quarters at just 1.44%. The large majority is due to High Frequency/Outlier Activity and Invalid Browser is back in second place after being overtaken in Q4 2018 by Spider/Bot activity.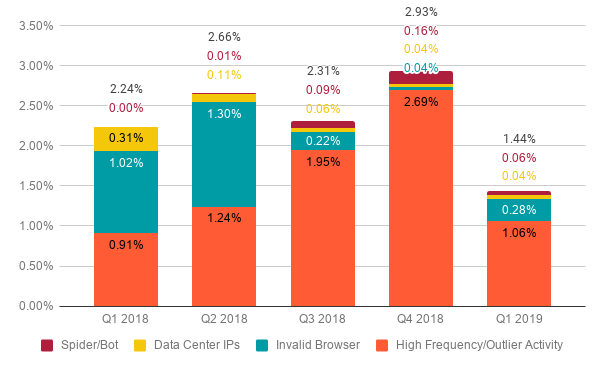 Media Aggregator GIVT
The rate of General Invalid Traffic among media aggregators took a steep decline in Q1 2019, moving from 5% in Q4 2018 to 1.67%. High frequency/outlier activity dominates the reasons for GIVT, with all others being negligible.