Percent of Impressions
A LOOK AT HOW ALL VIDEO IMPRESSIONS SERVED BY EXTREME REACH BREAK DOWN BY AD LENGTH, MEDIA TYPE AND DEVICE
Percent of Impressions by Media Type
In Q4 2018, premium publishers expanded their lead over aggregators in the percentage of overall impressions served by media type, finishing Q4 with 74% vs 26% for aggregators. That's a substantial shift from Q3 when premium publishers accounted for 64% vs 36% for aggregators.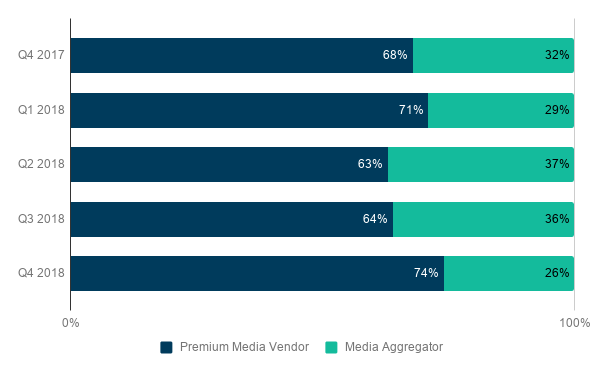 Percent of Impressions by Ad Length
30-second ads made a strong comeback between Q4 2017 and Q4 2018. The share of impressions commanded by 30-second spots in that one-year period more than doubled from 28.5% to 58%. At the same time, the share of 6-second and 15-second video ads declined dramatically, from 5% to 1% for 6-second spots and from 63% to 36% for 15-second ads. The resurgence of longer creative aligns with the growth of CTV, a format conducive to a lean-back, TV-like mode of viewing.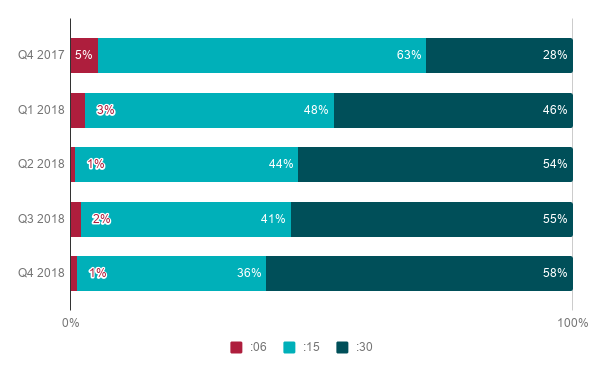 Note: small data sample sources for other ad lengths have been excluded, hence the rows in this chart do not total 100.
Percent of Impressions by Device
For the last five quarters we've seen a continuing trend: the decline of overall impressions served to desktop, mobile and tablet, while CTV has surged ahead. The jump from 15% of impressions in Q4 2017 to 44% in Q4 2018 amounts to a growth of 193% in CTV impressions in just one year.
For advertisers, directly-bought CTV provides a brand safe environment that remains relatively insulated from the high frequency/outlier and bot activity found in other digital channels. Advertisers should be aware, though, that where there are such dramatic increases in impressions served, hence money spent, non-human activity is bound to follow. Continuous data gathering and analysis from Extreme Reach will provide early warning signals for increased fraud attempts and the ability to contain it.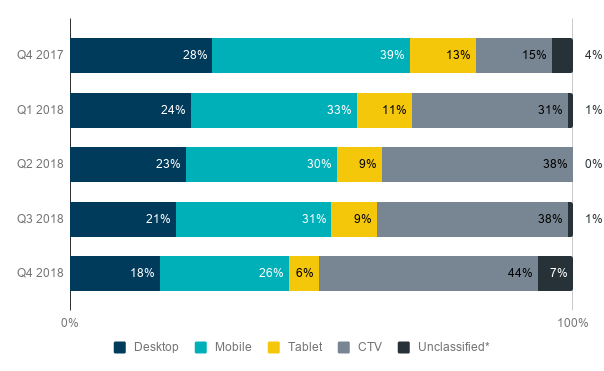 *Unclassified captures impressions from user agents who are known to be valid, as per industry sources, but whose platform or device we are unable to identify.