Percent of Impressions
A LOOK AT HOW ALL VIDEO IMPRESSIONS SERVED BY EXTREME REACH BREAK DOWN BY AD LENGTH, MEDIA TYPE AND DEVICE
Percent of Impressions by Media Type
In Q3, premium publishers led aggregators in the percentage of overall impressions served 64% vs. 36%. This is close to Q2, when premium publishers took 63% of impressions versus 37% for aggregators.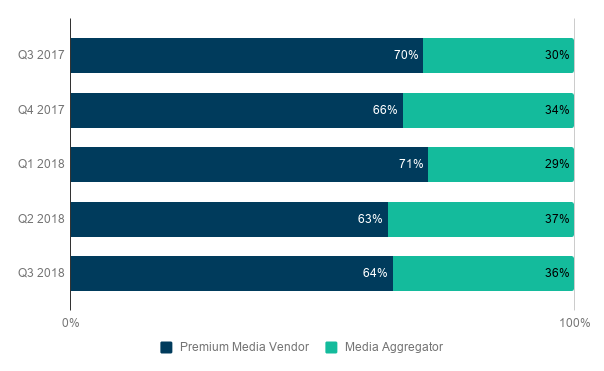 Percent of Impressions by Ad Length
After a surge in Q2 in which 30-second ads took the lead over 15-second spots, these longer spots have increased slightly once again. The increase aligns with the tremendous growth in CTV, which includes OTT. The format is effective for marketers looking to reach audiences in a lean-back, TV-like mode of viewing.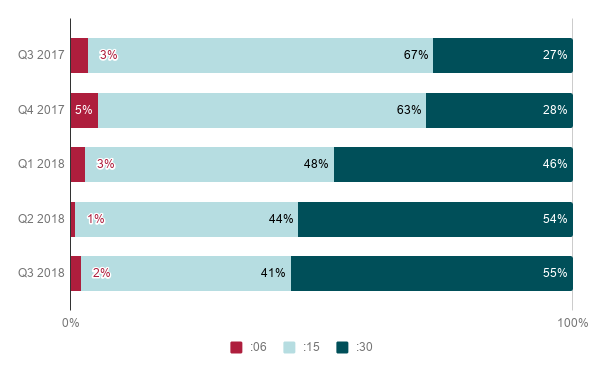 Note: small data sample sources for other ad lengths have been excluded, hence the rows in this chart do not total 100.
Percent of Impressions by Device
After gaining the lead on mobile in Q2, CTV remained steady at 38% in Q3, continuing its dominance as the leader in devices. Desktop continued its decline, slipping from 23% to 21%.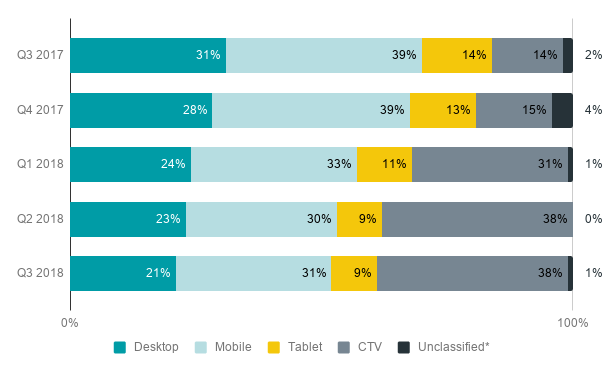 *Unclassified captures impressions from user agents who are known to be valid, as per industry sources, but whose platform or device we are unable to identify.